About the Northern Territory Rifle Association
The Northern Territory Rifle Association Inc (NTRA) is the Peak Sporting body controlling the Sport of Fullbore Target Rifle Shooting in the Northern Territory of Australia.
The association was incorporated on the 23rd December 1987 and has been housed in the Darwin Rifle Club (DRC) rooms within the Meckitt Creek Shooting Complex since 1996.
Prior to incorporation of the NTRA, control of Territory competitions was managed by the clubs now affiliated with the NTRA, Darwin Rifle Club and Central Australian Rifle Club (CARC) (Alice Springs).
NTRA is also affiliated with the national body, National Rifle Association of Australia and operates under the Standard Shooting Rules of that association.
NTRA in conjunction with the individual clubs is responsible for hosting both the CARC Open Prize Meeting and the NTRA Queens Prize Meeting including the lead up events, Bill McKinnon Series (Alice Springs) and Lou Hook Memorial (Darwin).These events are held biennially in May-June of even numbered years.
Full-bore Rifle Shooting in the Northern Territory can be traced back to 1881. Records are not available as to where the first ranges were located but a range was used at Larrakeyah from 1941 until a range was established at Hook Road in Winnellie in 1953. This range was used until relocation to the present range at Mickett Creek in 1996.
Origin of the Queen's Prize Events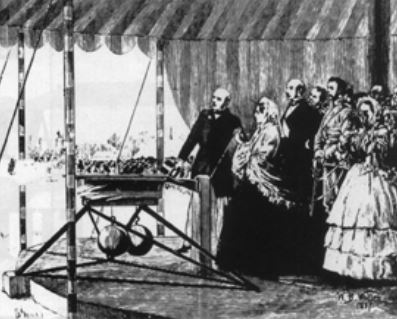 Queen Victoria firing the first shot in the inaugural Queens Prize shoot, 1860.
Queen Victoria in 1860 inaugurated the Queen's Prize in an attempt to raise the standard of marksmanship following the Crimean War. The prize was 250 pounds, enough to purchase a small estate in those days. Countries throughout the Commonwealth quickly followed suit, and patriotic fervour swelled the ranks of marksmen around the globe. In Australia, the states formed individual Rifle Associations soon afterwards, with each hosting their own Queen's Prize. International competition flourished, indeed the first National Australian sporting team ever to tour overseas was a Rifle Team in 1876, making target rifle shooting the oldest international sport in Australia.
Image: Queen Victoria firing the first shot in the inaugural Queens Prize shoot held by National Rifle Association at Wimbledon on 1st July 1860. The rifle was a Whitworth muzzle loader which was held in a mechanical rest. The shot struck the bullseye from 400 yards.